FKEE Researcher's Team Developed 'SayaHadir' to Assist School Teachers
Posted On 19/07/2020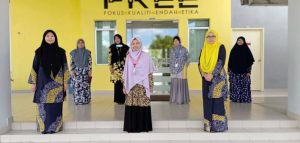 Date:
21 July 2020
Place/Venue:
UTHM
Participants:
Volunteer team of the Faculty of Electrical and Electronic Engineering (FKEE)
Description:

The volunteer team of the Faculty of Electrical and Electronic Engineering (FKEE), Universiti Tun Hussein Onn Malaysia (UTHM) has successfully developed an offline system called ' sayaHadir ' to assist teachers in the school to record the attendance of the students as well as the temperature using QR code technology.
The production of this system led by Dr. Nor Hafizah Ngajikin is capable of storing student data without an Internet network and is suitable for use in rural schools that have no internet access or unstable Internet access. Researchers who are involved in the development and information of the system are Dr. Herdawatie Abdul Kadir (Coordinator), Dr. Siti Hajar Aminah Ali (Application development), Zarina Tukiran (Database development), Professor Madya Dr. Siti Zarina Muji (System commercialisation), Dr. Marlia Morsin (Documentation) and Munirah Ab Rahman (System design).
The team which was chaired by Professor Madya Dr. Rosli Omar, Dean of FKEE and led by Dr. Herdawatie, deputy dean of student affairs of FKEE together with IEEE Oceanic Engineering, IEEE Robotics and Automation Society and Advanced Mechatronics Research Group (ADMIRE) had organised a Corporate Social Responsibility (CSR) programme which involved Sekolah Rendah Islam Hidayah (SIH) located at Jalan Olak Batu , Ayer Hitam, Johor.
The system has been carried out in the school aimed at assisting teachers to educate the school students on new norms of schooling in accordance with the guidelines set by the government. According to Dr. Herdawatie, the use of this offline presence system was well received by the school and received positive feedback from the teachers in the school.
"With the successful implementation of the 'sayaHadir' version 1.0 in SIH, we are very pleased to welcome the cooperation with other parties in the future and hope the contribution of this expertise can be benefited by the local community," he said.