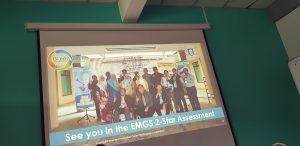 Introduction 
Water is the natural resource and must be treated to meet its consumption. The treated water tariff could increase due to the water pollution.  UTHM is exposed to the rainfall for almost several months, making UTHM to build few sediment ponds to store the rainfall water and subsequently reduce the flood risks. Furthermore, existing sewage treatment plant is producing sludge. At the moment the sludge is disposed to landfill and thus increases the sludge handling cost (UTHM pay contractor). The stabilization sludge can be carried out on-site i.e. through anaerobic digestion process and finally producing renewable energy (biogas).
Strategic Aim
To improve the environmental performance of UTHM's physical infrastructure by moving towards carbon neutral energy performance, adopting environmentally conscious procurement practice, promoting renewable energy systems, reducing water consumption and waste output.
Objectives
To systematically reduce energy consumption and associated carbon emissions in UTHM Campus
To minimise the use of water and promote rainwater harvesting in UTHM.
To manage and treat water efficiently in UTHM.
To establish holistic energy and water management framework for UTHM.
Key Performance Indicators
To apply water recycling and reuse for promoting Sustainable Water System within UTHM Campus.
To upgrade the existing sewage treatment plant by adding Anaerobic Digestion (AD) process.
Achievement & Reports
SCO – to submit the report to SCO in every 6 months.
Energy and consumption report
Awareness Campaign